The Slope of a Line
In this lesson, we will learn how to find the slope of a line when we know the coordinates of two points from that line. We will also learn how to interpret the slope as a rate of change.
Return from the Slope of a Line page to the Algebra Lessons page.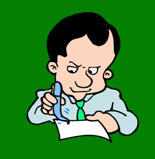 Click here to take a test about slope.